April Films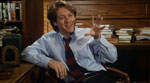 Curtain Call: Feature Film – Domestic : CURTAIN CALL is an amusing feature film starring James Spader, Maggie Smith and Michael Caine. The story revolves around a young publishing executive named Stevenson Lowe (James Spader) who moves into a house inhabited by the ghosts of two famous stage actors from a previous age, Lily Marlowe and Max Gale (Maggie Smith and Michael Caine). The ghosts quickly involve themselves in Stevenson's life, helping to foil any chance of success he might have with his girlfriend Julia (Polly Walker), and making complete nuisances of themselves in every way possible. Incredibly though, even the ghosts evolve in this story of life and life after death, becoming happier, healthier beings who teach us that it's never too late to learn something new.
CURTAIN CALL is featured in the April volume of Spiritual Cinema Circle
, a DVD club specializing in heart-opening and soul-stirring films. Also, included in this volume are three moving and inspiring short films. New subscribers to the Spiritual Cinema Circle can receive a free trial membership (for a nominal shipping fee) by visiting Spiritual Cinema Circle. Click here for the Spiritual Cinema Circle Free DVD Trial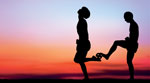 Mystic Ball: Feature Film – International : This beautiful documentary is one-part inspiring sports movie and one-part spiritual quest as Greg Hamilton explores the art of chinlone, an engaging ball game played by almost every Burmese person, regardless of age or gender, living in Myanmar.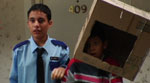 Across the Hall (El Otro Lado Del Pasillo): Giving us an intimate look at what it's like to be an immigrant in a strange culture this short film shows a family trying to fit in when nothing seems to fit quite right.

The Wine Bar: This short film transports us to a cozy wine bar on a winter evening in Manhattan. Henry walks in looking for a beer, and in his bumbling innocence, both offends and charms the bartender and the beautiful woman reading beside him.
Lucy's Piano: Starring Stephanie Zimbalist (Remington Steele), this short film reveals the transformation that can occur when humanity comes in to soften the blow of a tragic loss.
April Promotional Offers
Free Trial
3 Month Gift Subscription:
Looking for a special gift for Mother's Day? Give 3 months of enlightening and inspiring entertainment from Spiritual Cinema Circle. You'll receive 18 films in all for just $59.95+ S&H.
Thanks for Your Healing Mind,
Randolph